As part of our regular continuous professional development, the team at ARC arrange monthly seminars from experts in legal, accounting, psychological, psychiatric and other fields.
Last Monday, we were delighted to welcome the Personal Insolvency Practitioners from R Hendy & Co.  Eric Hendy and Kerry O'Neill (pictured with ARC Partners) gave a detailed presentation on Insolvency Law and the various debt settlement agreements that clients can enter into, based on the size and nature of their debt (whether secured against an asset or unsecured).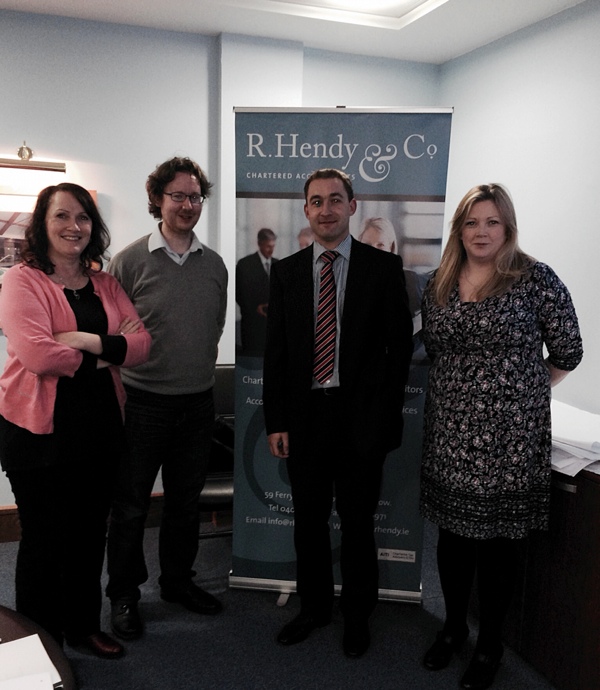 It's a sad fact of life that there are tens of thousands of homeowners in Ireland who are in mortgage arrears of more than a year. Many are struggling under the weight of unsecured debt such as credit cards and personal loans with missed payments leading to credit rating issues. People in these circumstances should ideally talk to MABS and/or a PIP to see how their debt burden can be managed and reduced in an orderly manner via a Debt Relief Notice, a Debt Settlement Agreement or a Personal Insolvency Agreement. If your credit rating is already damaged and you're struggling to put food on the table or heat your home, then what do you really have to lose?
There are many misconceptions about insolvency and bankruptcy but the one we hear most often in mediation is that it will "damage my credit rating". The reality is that there are so many people throughout Ireland with impaired credit rating that the perceived social stigma is much worse than the reality. Also, if you're in arrears, your credit rating is probably damaged anyway. Check your status with the Irish Credit Bureau to find out. The "credit event" has already happened or is in progress and an insolvency agreement or other debt agreement can help you be debt free and restore your credit rating within 5 years so long as you provide an honest account of all income and assets to your creditors. In the more immediate sense, it means that creditors are dealt with in an orderly fashion by a trained professional (usually with extensive accountancy and financial advisor qualifications), rather than individually contacting the debtor to demand payment.
The resulting debt agreements, provide the debtor with a reasonable standard of living (see Reasonable Living Expenses guidelines from the ISI) which in many cases are aspirational given the meagre budget the debtors have had to survive on.
If you or a relative is suffering from the stress of dealing with unsustainable debt, please contact your local MABS office or a PIP to seek advice. For many people, that first call is literally a life changing moment.