ARC is based in Waterford City, in the South East of Ireland. Our offices are located in Maritana Gate, Waterford's leading office complex with nearby restaurants, cafes and hotels with business centre facilities.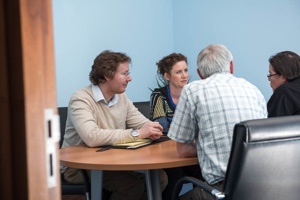 Please address all correspondence to:
ARC Mediation,
9 Wallace House,
Maritana Gate,
Canada St.,
Waterford.
Our facilities encompass consultation rooms with conference phones, a state-of-the-art training room with projector and surround sound which can accommodate groups of up to 14 trainees in each session. Our offices are near the N25 to Cork and a 15-minute drive from the M9 motorway connecting Waterford, Carlow, Kilkenny and Dublin.
ARC has provided dispute resolution and employment law services to clients around Ireland. For workplace or commercial mediations outside of Waterford, we may make use of your premises and hotel business centres as deemed appropriate.