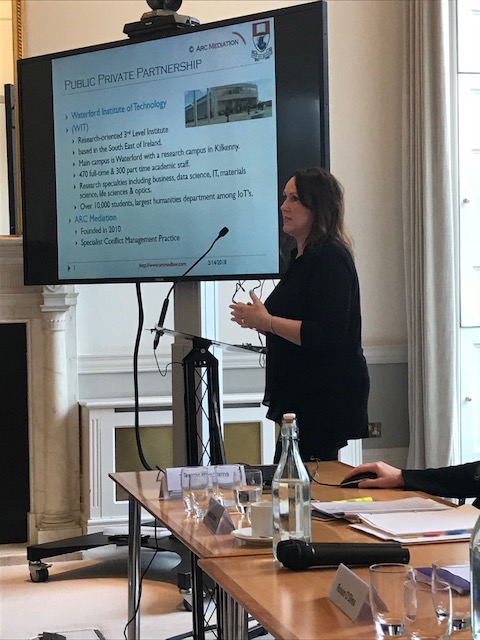 Presenting at a conference in Bedford Sq London today, ARC Founder and WIT researcher, Dr Roisin O'Shea called on the Irish Government to reduce VAT on family mediation fees and legal fees to 9%.
"It is so exciting that Ireland is leading the way internationally and is the first country to bring in legislation to regulate the profession of mediation, with the Mediation Act 2017 commenced on January 1st. However, the Government can do more to support families in distress, and could make life a little easier by reducing the State tax element of fees. Those who need the services of a family mediator or a family law solicitor are individuals rather than businesses and therefore cannot reclaim VAT, which at the current rate of 23% is almost a quarter on top of the fees charged."
Dr O'Shea was invited by the Nuffield Foundation to present today on the Family Mediation project, a research initiative at Waterford Institute of Technology, which will be launched in April in Dublin. Dr O'Shea spoke to an invited audience of leading policy makers, members of the judiciary, decision-makers, practitioners and researchers across Europe , who gathered to consider key developments in research and practice with the potential for improving the resolution of private family law disputes. ' Better decisions in private family law: building an interdisciplinary approach' was organised by the Nuffield Foundation, who will launch the Nuffield Family Justice Observatory in 2019.
"My international colleagues were fascinated to learn that Ireland developed the first publicly-funded family mediation scheme in Europe as long ago as 1986. Now Ireland is the first to put mediation on a statutory footing, and we can take the lead again by bringing in a progressive tax change to further promote the uptake of mediation by families who should be supported to self-determine outcomes that work best for them. Lap dancing clubs benefit from the reduced 9% VAT rate for tourism, surely we can extend that reduced rates to those who need professional assistance post the break-down of a relationship."